One of the professional ways to depict your logo design is by using mock-ups.
A mock-up is a visual carrier on which your logo design is showcased to your clients more effectively and realistically. Mockup is used to provide an idea that how your logo design would look like in real life. For example, if you are designing a coffee shop logo, then you can use a coffee cup mock-up to provide the look and feel of how it would look in a real scenario.
In this blog, we would discuss why you should be using logo mock-ups and how you can utilize them to represent your logo design.
Product Mock-up
You can use product mock-ups to provide your client a visualization of their logo placement in reality. It assists clients with a more realistic impression of how their logo will look on various canvas. i.e., Business cards, Letterheads, Flyers, Outlets, Apparel, Gadgets, etc.
Mockup is a great way to review your logo design and implement revisions on the design elements which require further changes, such as color schemes, font types, logo proportions, etc.
A product mockup provides professionalism to your work and can be useful in getting more projects from the same client.
Types of Product Mock-ups
Selection of the right mock-up depending on your product niche is the best way to portray it to your client or your target audience. Here are some types of mock-ups you can use:
Lifestyle Mock-ups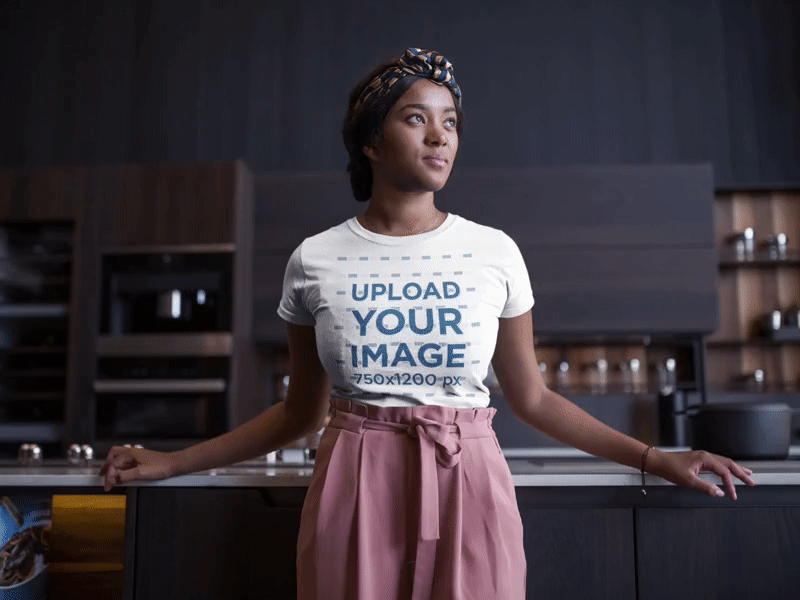 Lifestyle mockups are best suited for day-to-day products that are utilized in our daily lives. Some lifestyle mockups include t-shirt mockups, mug mockups, gadgets, and many more.
These types of mockups can depict your logo in real-life content. You can use mockups having real human beings wearing a tee with your branded logo on it, which blend in so perfectly that it is sometimes impossible to predict is a mockup or an actual picture. This highly contributes to clearing the blurry vision of your clients and they will be able to imagine their target buyers using such mockups.
Flat Lay Mockups
This type of mockup showcases your logo on a flat surface, mostly portraying the birds-eye view of a desk, floor, or any surface with sorted products placed minimally to uplift your logo on the product. For example, you can place your logo on a facial cream, surrounded by make-up brushes, mirrors, and fancy items to maintain a beautiful impression.
Product-Only Mockups
The major focus of such mockups is the product only and not the surroundings. You don't need fancy elements or props for it. You can use any kind of solid background color and place your product on it with your logo design. This provides a neat look and provides more exposure to the actual product and its logo design. Such mockups are usually seen on online marketplace product lists.
Animated Mockups
Animated and Video mockups can be also used. You need to get video templates for it or refer to some professionals who are into 3D, 2D animations.
For example, if your client belongs to a real estate, you can use 3D modeled video shots of buildings with their company logo represented on billboards.
Where to find Mockups?
Mockups can be easily created using online mockup generators or using Adobe Photoshop.
Best PSD templates website are
Envato Elements
Freepik
net
PSD Repo
Best online mockup websites are
Placeit
Smartmockups
Media Modifier
"We at BrandsDesign.com, provide the best Logo Designing services and their Mockups for FREE! We have a dedicated team of experienced professionals who flawlessly craft your Logo. Try our Logo Designing Services to get premium quality Logos"
Key Elements to Consider while designing a Mockup
While crafting a mockup for your logo, there are some points you need to pay attention to, so that the final look and feel of your mockup look as realistic as possible.
Select Mockups depending on your product niche
Adjust the exposure, saturation, brightness of your logo colors so they can blend well and go along with the mockup
Consider mockups with some spacings which help your logo design to stand out and can be easily adjusted and cropped as required.
Make sure your mockups are in High Quality
While adding/adjusting extra layers on your logo make sure your logo color tones don't get affected much due to external layers.
Make sure your logo is perfectly placed in your mockup and doesn't look untidy and separately placed.
Don't forget to adjust the lightings of your mockup to provide it with the realistic look
Over to you
Mockups highly uplift your logo design and show you are an experienced designer in the market. So, it is a best practice to always consider using mockups for your logo designs instead of handling simple raw logo images for your clients.