The prevailing spectrum of colors and styles have turned a gear in 2021, with a mixture of amazingly new and vintage designs. Doubtlessly, the previous year was a junction of dreadfulness but we all passed that level. Whether you're starting up a new brand or rebranding your logo design, it's vital to check on the voguish logo design trends that we've jotted down just for you. From simplistic designs to complicated ones; all are assembled through various polls and research.
Inevitably, logo design trends play a vital role in escalating your brand's presence that helps your logo stand out of the clutter that every graphic design company will agree upon. Surely, 2021 has something exciting with a lot of invention and a touch of the spark that calls for a storming effect. Therefore, it's time to incorporate these logo design trends in your projects as many top logo design services are looking up to.
Sublime Logo Design Trends – Time to Change
Professional graphic designers look for innovation that transforms an old concept into a completely unhackneyed design. Here you go with awe-striking logo design trends.
Trend 1 – Perspective Angles
Surely, 2021 has rolled on the dices where perspective drawing based designs wear the crown. Over-simplified designs have somehow left their aura behind. Here fore, flat designs have run over the throne with the collaboration of simple and minimalistic designs; that have the attributes of grasping the eye of audiences. Through its empathetic feature that creates a depth of illusion without the need for complicated designs.
While numerous top logo design services are stretching their tactics towards these current logo design trends and surely won't give it up. Thus, they are looking to work towards fine-drawn perspective angles. That has gripped with its linear, clean, clear, curvature, and foresighted perspective logo design elements. Hence, explained beautifully by a great logo designer Lindon Leader, "Greatest Design is born of two things, Clarity and Simplicity." His words are assuredly a path to designing wisdom to work towards.
Trend 2 – Divergent Alphabets
Clashing with the old trends, these amazing logo design trends have come up with a humongous style of diverseness. This time wordmarks will play a compact role in the on-going logo design trends since the limelight has been showered over specific alphabets in the logo design.
Concretely, we are looking for elevating transformations in one alphabet in wordmarks. As for, highlighting that one letter in the whole logo through various styles, designs, elements, shapes, angles, and colors.
This can be done by replacing different alphabets with the brand name; for instance, if it's a Japanese restaurant, the alphabet H in the logo can be replaced with chopsticks. Moreover, for a home décor brand, the alphabet m can be changed with a Sofa, or lightening brands can use O or P with a lamp.
There are uncountable transitions that can be done creatively with the letters used in the brand name. However, divergent alphabet designed logos are free to break the rules since they make a room for the audience interest, which adds to both the sides of traditional and type based designed touch.
 Trend 3 – Glazier Designs
Undoubtedly, the retro side can never leave the room in a designer's life. And therefore, the Middle Ages' artistic graphic designing trends are back to showcase in logo design trends. The stained-glass designs stand close to divine and sanctity, justifying it through the subtle colors, calm gradients, and soft contrasts.
However, solid colors create a different trend with the meshing up of abstracts. The splinters of solid colors are quite trendy with highlighting the glazier designs or let say stained glass artwork in 2021 that has already grabbed all eyes. Mostly, the earthy or natural prospect-based logos are beautifully designed that speaks boldly about calm and vintage sight with a modern look.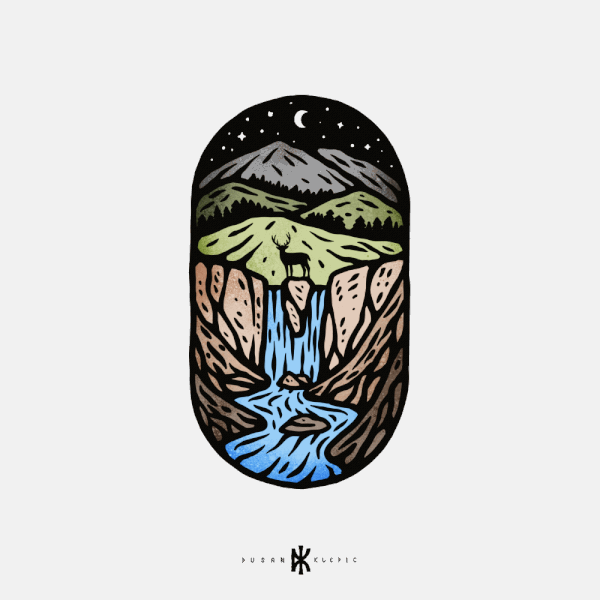 Trend 4 – Pure Geometric Language
Interestingly, simplistic geometric designs are quite focused these days. Hence, it withholds an impression of joyousness as it's dipped into luminous color contrasts, quirky shape illustrations, inquisitive blocks of imagery, and simple shapes and lines.
More to that, the elementary shapes play a vital role in the designing of logos. The squares and rectangles lay the groundwork for further features to be added. Also, triangles, circles, and squares create their power of pure simplicity to rule the place through their spiky edges and consistency. While designers are focusing on complex designs, 2021 is back with logo design trends that talk about simplistic variations with a complex touch.
Nothing too much or less will be acceptable in 2021 logo design trends this time. Therefore, the purity of minimalism in shapes and lines allows the designers to play with richly saturated colors while crafting logos.
Trend 5 – Wacky Characters and Caricatures
Interestingly, in 2021 we're seeing a quirky shift in words, situations and so do in logo design trends. Herefore, many brands have come up with logos having wacky characters that sound fun and appealing to the audience. Moreover, the biggest advantage counted in goes as they feel attached to the brand rather than thinking of it as a snatcher of money.
These logos present eccentric, outlandish, kooky, and delightful concepts of artwork. Since it gets difficult to pass out without viewing the out-bursting caricatures that are the epitome of creativity.
Ultimately, these fanciful illustrations want businesses to make their audiences at ease by being transparent, simple but ultra-creative in logo designing. For instance, the flamboyant lamb character with googles and a wine bottle or kooky garlic character with ears and a beard. You can even count in the whimsical donut lady. So, these designs share attributes of new ageism and modernity.
Trend 6 – Static Motion Design
Without a doubt, in previous days motion-based graphical logos were quite in the hype. Similarly, these logos stand a place in 2021 with static motion logo design trends. Now, 2021 has come up with the idea of representing motion logos but with motionless feats. Hence, impressing the audiences with something illusional and imaginative. Furthermore, you can find the top logo animation software that can help you out with creating these trendy logos. Since, these logos will have traces of motion, splattering particles and action elements.
Moreover, the tech business can be friends with these logo design trends in 2021. As it portrays the touch of adventure, zestfulness, and excitement that's unending. The brand can be seen as more than just a product or service provider.
Trend 7 – Homologous Color Schemes
Traditionally, as explained by graphic designers as Analogous colors are the new logo design trends in 2021 that will lead the path. Although, this color scheme has multiple stages from one color dominating at a certain stage, the other supporting it and the last toning the color. However, these color schemes have a scientific approach that creates consonance with the contrast of opposing colors. Moreover, these color schemes can create a bundle of numerous contrasts, shades and opposing colors that add a flashy yet simplistic logo look.
Are you ready for storming out with logo design trends in 2021?
Well, the year has begun with a lot of classical and new approaches to design. Not leaving behind room for a question regarding any color, shape, and element. However, the time has come to grab the opportunity and rebrand your techniques. Since multiple variations have been made from static motion designs to glazier designs. Not even leaving behind the typographic styles by highlighting the usage of divergent alphabets along with pure geometric designs. Every area of designing has been focused on keen observations that will surely have a storming effect on the customers.